One of the most popular Linden Home themes is the Houseboat. All four houseboat models have a private dock area and access to open water channels, making them a good choice for people that enjoy sailing and being close to the water.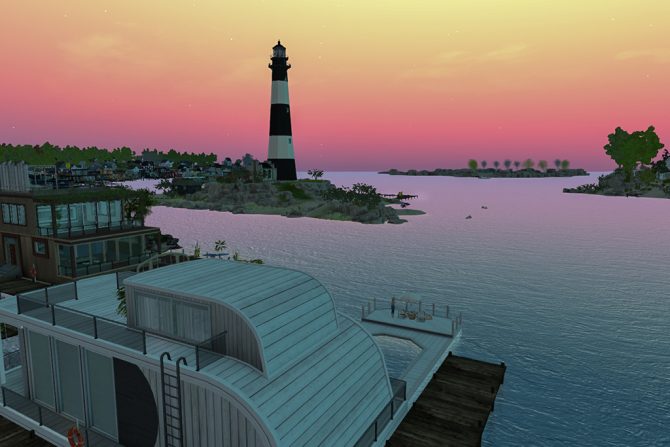 For this location with an amazing view of a lighthouse, I chose the smallest houseboat, the "Evening Star".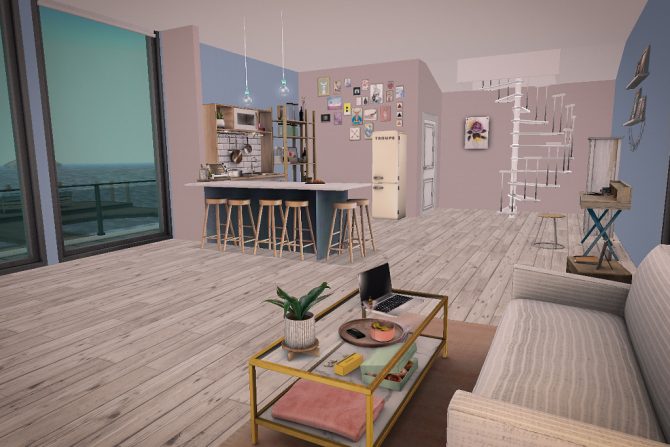 The first thing I added to the houseboat was a purchased add on that covered the downstairs walls, created a bathroom space, and added stairs to a new upper room. Then, used the House Control module to change the original houseboat surfaces, tinted and/or retextured the add on pieces where needed, and added a simple mesh prim with a white plank wood texture to the lower level floor. The add on comes with a built in kitchen island, but I wanted to use my own so stretched and resized an Ionic island to fit over the original. A door to the newly added bathroom is back by the stairs.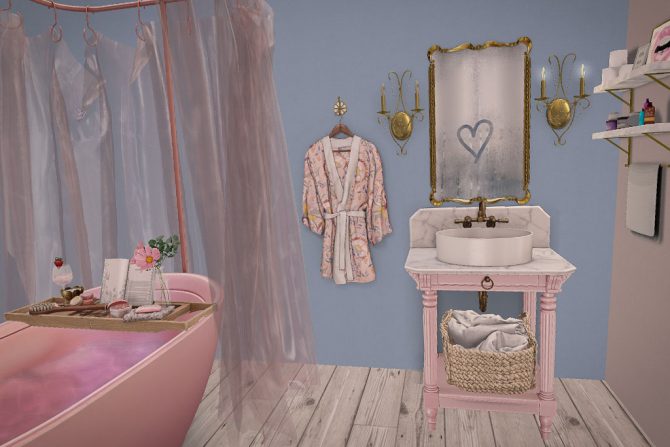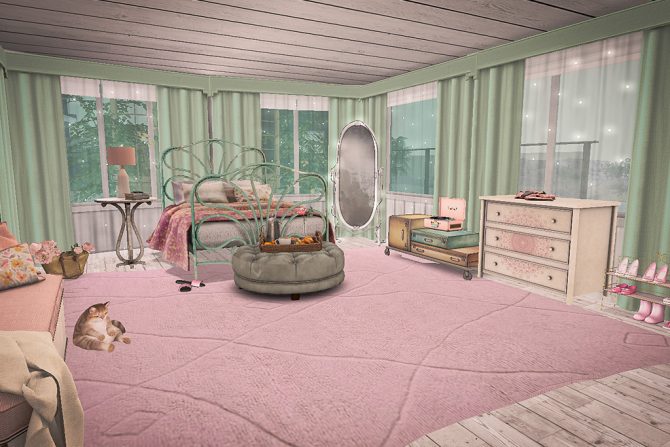 Upstairs, the new room was turned into a bedroom and a little vanity/office space. Since this is a boat, there are many curved corners. I think it turned out well!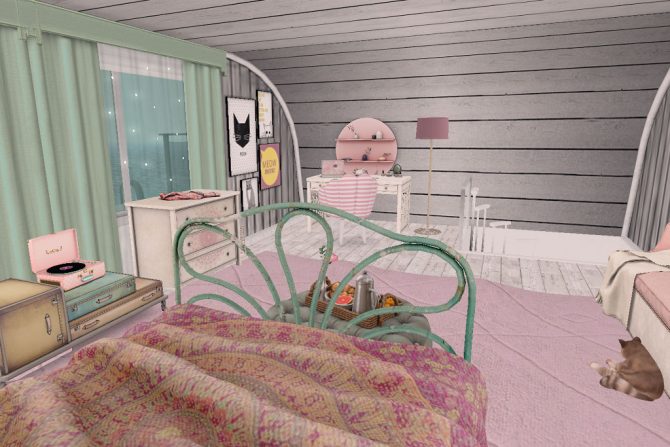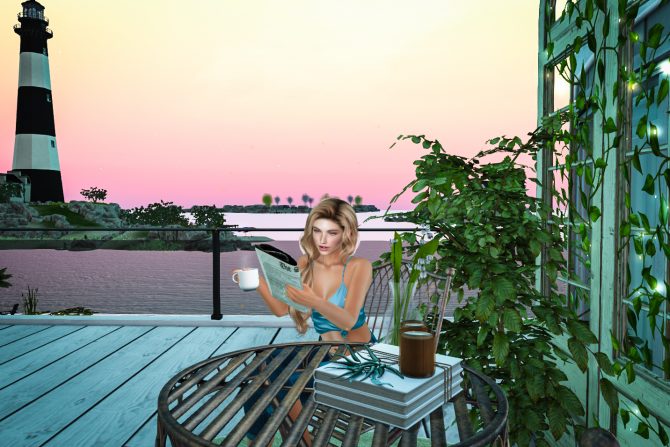 The add on came with a very nice pergola for the top deck. Since the big draw of this boat's location is the view from the starboard side, I replaced the pergola with a small seating area for coffee, drinks and chats.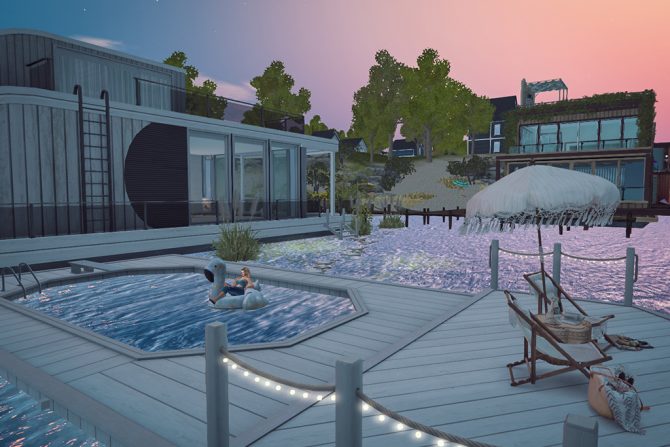 Then to finish it off, added a pool, a little greenery and a swing, plus a walkway to the pool…still within the 351 prim limits for Linden Homes!
Credits:
BH&G Evening Star Houseboat Add On LI:18
dust bunny & con . lauren bathroom . single vanity LI:6
dust bunny & con . lauren bathroom . vanity basket LI:3
dust bunny . lauren bathroom . bathtub caddy LI:2
dust bunny . lauren bathroom . mirror . gold LI:2
dust bunny . lauren bathroom . hanging robe . c LI:3
[Fetch] Dream Bathroom – Wall Shelf LI:1
The Loft – Lainey Sconce Brass LI:1
:HAIKEI: Home Sweet Home / GACHA / 6 (tub/shower) LI:8
:HAIKEI: Seeing all the lights on / GACHA / {5} (rug) LI:1
:HAIKEI: The Winter Cabin / GACHA {1} bunnies LI:1
:HAIKEI: Seeing all the lights on / GACHA / {2} fireplace LI:7
ionic : Hang out – RARE LI:24
:HAIKEI: Lazy Sunday / GACHA {4} side table LI:2
Kres : Blossom Chair – PG LI:6
ionic : La mesa – isla LI:4
ionic : My Kitchen LI:17
dust bunny & con . rosemary kitchen decor . tray LI:3
[Cinoe] Disappeared way back – Croissant & Coffee LI:2
Fancy Decor: Drip Coffee Maker (white) LI:1
Trompe Loeil – Norah Studio Refrigerator Cream LI:12
hive // modern farmhouse kitchen wood shelf LI:1
CHEZ MOI Cotton Lamp Blue LI:2
ionic BePresent LI:2
Trompe Loeil – Norah Shelf + Props C LI:10
CHEZ MOI Quinn Mini Oven LI:2
ionic El conejito de la suertet LI:4
ionic Flower poster LI:1
ionic Old Days desk & stool LI:4
.peaches. Eryx Laptop Clutter LI: 3
ionic Las Casitas Suecas LI:2
tarte. x Elm. isabelle desk (white) LI:2
tarte. x Elm. marble phone holder LI:2
tarte. x Elm. sketchbook & glasses LI:2
:HAIKEI: Suddenly Morning / GACHA {1} Shelf LI:1
Dahlia – Elwood Spring Beauty Clutter LI:1
{moss&mink} 3k VIPs – Exclusive Record Player LI:2
{moss&mink} Monique Shell Chair LI:4
{wn} Balboa Floor Lamp LI:2
{wn} Chelsea Curtains (panel & lights) LI:2
dust bunny . season of giving . silk pajamas . pink LI:1
dust bunny . sweet dreams . morning tray LI:2
dust bunny . violet vanity . makeup bag LI:1
!! Follow US !! Like a Boss desk – Laptop LI:1
ionic MEOW LI:1
ionic Awake {bed} LI:15
Foxwood – Chonky Kitty – Sit 2 LI:2
Bazar – Glam-Ottoman LI:2
ionic Good day sunshine (suitcases) LI:8
Elm. Emmaline Nook Bench w/ Pillows [Eggshell] LI:8
MINIMAL – Comfy Ceramic Lamp LI:1
MINIMAL – Comfy Shabby Side Table LI:1
:CP: Vetur Cheval Mirror LI:3
+Half-Deer+ Shoe Rack – Pink
Verspertine – Bag full of Peonies
Kraftwork Serene Collection – Books & Glasses
[Merak] – Home Slippers QUEEN – Gacha LI:1
Scarlet Creative – Barcelona Wool Rug
DD Olivia Boho Console
+Half-Deer+ Lighted Pathway – Stars – Snowy LI:2
8f8 – Driftwood II – Swing me still LI:4
CR Pampas Grass Linkset Group LI:2
[DDD] Mystic Twinkling Ivy – Patch LI:1
{wn} Seaclose Floating Deck and Stairs LI: 25
Dahlia – Flamingo Float LI:5
[DDD] Mystic Twinkling Ivy – Patch LI:1
dust bunny . beach bag . cream LI:1
dust bunny . beach day . lounge chair . pg LI:3
dust bunny . beach day . towel tote LI:4
dust bunny . dreamy outing . parasol LI:8
{what next} Seashell Drink Dispenser (pink) LI:1
CHEZ MOI – Scrolled Bistro Table & Chairs LI:3
Dahlia – Julia – Candles & Books – Amber LI:1
Pitaya – Farm Table Mood – Decorative Door Wood LI:6
Kuro Rounded Rug (green) – LI: 1