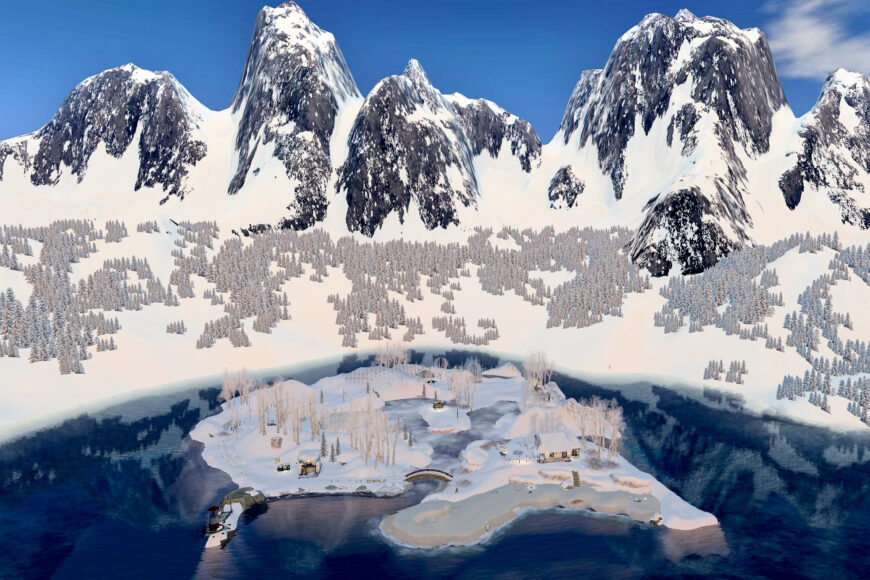 It has been a long time since I posted here, due to starting a new SL job with Seraphim, the holidays, and revamping my rental homestead region… decided to do a winter white makeover! This post and the next few posts will give an overview of the major features (will not be listing every item used, just the high points).
Started with the existing raw terrain file the Mountain Valley sold by Sky Linnaeus on Marketplace. Since I am not the region owner, I emailed the file to the owner and they uploaded it for me. Also added a sim surround from Landscapes Unlimited called the Alpine Ridge 3/4 Mega Surround. The store has demos for different sizes of surrounds, I went with 3/4 so I could have an open side facing the western sunset.
Since I wanted the snowy region to have a more open feel with high mountains surrounding, I terraformed the base terrain quite a bit, flattening the existing mountains. Then came the fun part – choosing terrain textures! There were quite a few snow textures in my inventory already, went with a "white" snow texture from Skye called Winter Snow 512-2-0 for the 2 lowest elevations, and an ice rock texture for the higher. Note the beach in the photo is left over from autumn, it is a Skye Sandy beach, and the snow melts off of the beach quite quickly lol. My next post will be about adding the landscaping, cliffs, rocks etc.