When I was growing up, every Sunday morning we had either pancakes or waffles made with Bisquick. The kitchen is the heart of the home, and cooking for others is a wonderful way to show we care.
Credits:
Elm – Carissa Kitchen [White], Kitchen Decor at Fameshed, Laurel's Kitchen Decor
Ariskea – Dairy Sage Container, Lucy Aloe Plant
Soul2Soul – Rustic Chic Kitchen – Pantry Items
Nutmeg – Casserole Black , Farmhouse Kitchen Oven Mitts, Porcelain Collection
Chez Moi – Terrasen Placemats
West Village Pancake Breakfast Board
Fetch – Fall Tray
Merak – Expresso Machine (at Fameshed)
sf – Peppermint pots
Dust Bunny & Con – Rosemary Kitchen knives, Dust Bunny – Kitchen Clutter paper towels
Floorplan – Baking Canisters
Hive – Cozy Kitchen full fridge
Apple Fall – Copper Mixer, Copper Teakettle, Clay Cats Jour and Nuit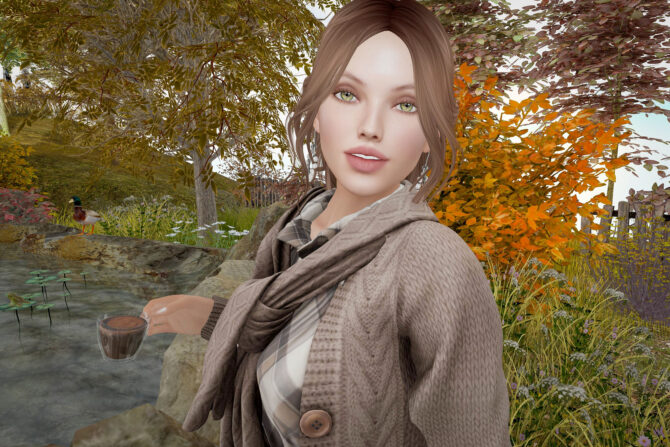 A fun thing about the expresso machine is it lets you choose from several different drinks and cup styles….the first one I tried was the Irish Coffee and, well…let's just say I won't be posting any pictures of me drinking using that particular animation. Maybe a little TOO much whiskey in that drink!